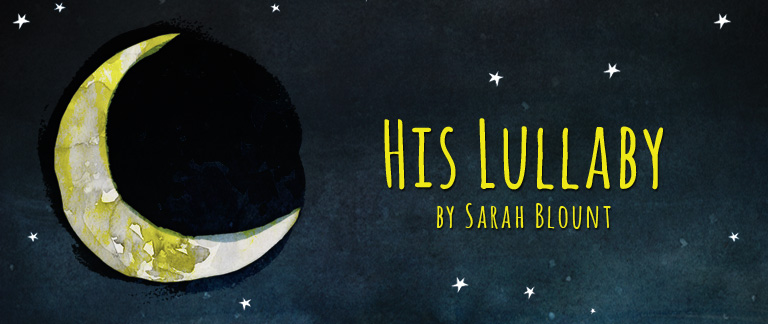 On December 6, 2013, the Dallas/Fort Worth metroplex was covered in a thick layer of snow and ice while my husband and I were in the hospital welcoming our precious daughter, Sunny Joone.  After delivering her brother Felix still born just 17 months earlier we couldn't have been happier as her little lamb like cry filled the room.  God had been so faithful to our family.
Over the next few weeks as we were soaking up all Sunny's newborn goodness lullabies with sweet melodies and lyrics filled with God's Word began to stir in my husbands heart.  Those lullabies inspired the latest album from Ken Blount Ministries, Sleep Baby Sleep.
The finished album has been playing in our house every night during bath and bed time and it has such a peaceful anointing on it.
Singing over a baby always seems to calm them down.  Every mother who's ever held a crying baby has tried it.  I'm sure Eve sang to her twin babies Cain and Abel, and Sarah sang to baby Isaac.  There's just something instinctive that makes a mother know to sing to her baby and something instinctive in her little baby that makes him enjoy his mother's song—even if mom is totally tone deaf or off-key.
Scientists have shown that when a child is being sung to their perception of pain lowers as well as their heart rate.  Lullabies like "Rock-a-Bye Baby," which have been passed down from generation to generation, are more than just cute little songs, they are sure-fire ways to quiet and calm a baby who has worked himself into a crying frenzy.
Zephaniah 3:17 (NKJV) The Lord your God in your midst, the mighty one, will save; He will rejoice over you with gladness.  He will quiet you with his love.  He will rejoice over you with singing.
The instinct which mothers have to sing over their children is God-given.  He sings over us in the same way I sing over my babies.
When we have worked ourselves into a frenzy, He quiets us with a love song.  If we will make time to get quiet and listen to His song, our perception of pain will lower and our heart rate will get in sync with His.
He, the mighty One, is there.  He's in your midst today.  He's heard your cry and has come to pick you up, hold you close, and sing over you until you feel His peace and find comfort in His calming and perfect tone.  Listen closely to His lullaby.  Every lyric carries with it the encouragement you need to get through the day, the week, or this season of life.
Let Him sing over you until you find yourself so full of joy that you can't help but sing back to Him!
We pray that as you fill your home with the sweet sounds of these lullabies that you will also fill your home with the sweet presence of God.  May both you and your little one experience His perfect peace.