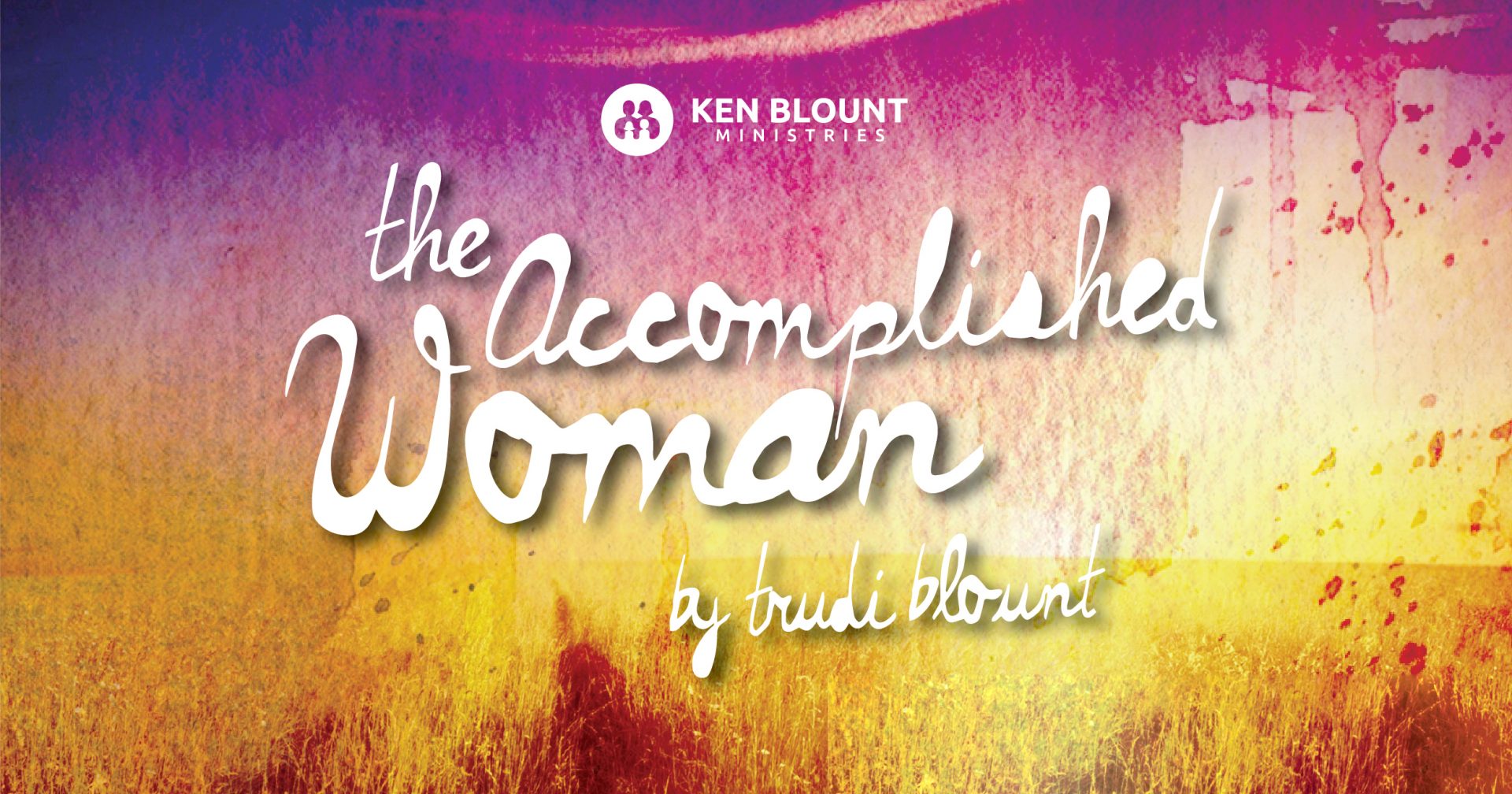 The Accomplished Woman – #22
The "Accomplished Woman" smiles at the future!
Proverbs 31:21 She is not afraid of the snow for her household: for all her household are clothed with scarlet.
One translation says she smiles at the future. I like that! This verse is still tied to verse 20. Because she is a giver and sows into others, she trusts God to take care of her family by the law of sowing and reaping.
The scarlet clothing spoken of here is cloth that retains heat. This type of cloth keeps her children warm and protected during the cold winter months. This speaks of this woman's attentiveness to the welfare of her family in every season of their life.
The snow spoken of here is not just the winter season. It also carries a spiritual connotation. Snow can symbolize death and even hell, in a judgmental sense.  We could also say it speaks of the winter of life. It is referring to the time of harvest.
To be clothed in "scarlet" represents the robe of righteousness and points us to the blood of Jesus. Let's give some more context to this passage by looking at another scripture:
Proverbs 6:6-9
6 Go to the ant, you sluggard! Consider her ways and be wise,
7 Which, having no captain, overseer or ruler,
8 Provides her supplies in the summer, and gathers her food in the harvest.
9 How long will you slumber, O sluggard? When will you rise from your sleep?
What a unique contrast King Solomon is making between an ant and a sluggard. The ant instinctively acts in a wise manner. It knows that harvest and winter are near. Summer represents the time of youth. The ant redeems it's time when it is young and strong as it provides for it's own species and gathers.
The sluggard represents a person who hasn't found their true purpose in life. They're asleep during the most productive time of their life; their youth. They are not looking down the road to the inevitability that winter is approaching. They are short sighted and are making no provision for their families; physically or spiritually.
The ant has no rulers, captains or overseers but by instinct it does the wise thing. It makes preparation for the coming of winter. The sluggard has the power of choice and should be busy acquiring for the future but remains asleep until it's too late…and the window closes.
I observe so many people that don't prepare themselves and their children for winter.They neglect to train their children and because of that they are not wrapped in the scarlet robe of righteousness.
Harvest comes before the time of winter. Winter represents old age. Winter also means "the severing". During harvest, the sickle is put to the stalk and severed. After that it's done. One day time is over. No more fruit will be produced. This is the inevitability that time is running and life will one day end.
Tomorrow, we will discuss preparing for harvest.
She has no fear for the future of her children because they are clothed spiritually.
The "Accomplished Woman" smiles at the future!

The "Accomplished Woman" smiles at the future!
Proverbs 31:21 She is not afraid of the snow for her household: for all her household are clothed with scarlet.
In Jewish commentaries, it tells us that Sarah did not fear the snow of Gihinnom (hell) for her household. The reason for that is Abraham had made covenant with God.
Remember in scripture how God cut covenant with Abraham in Genesis 15? He made provision for them by separating his household to God through a blood sacrifice.
To prepare for winter would mean you prepare your household spiritually.
Abraham is such a great example of faith. He is called the Father of our faith.
Genesis 18:17-19
17 And the Lord said, "Shall I hide from Abraham what I am doing,
18 since Abraham shall surely become a great and mighty nation, and all the nations of the earth shall be blessed in him?
19 For I know him, that he will command his children and his household after him, and they shall keep the way of the Lord, to do justice and judgment; that the Lord may bring upon Abraham that which He has spoken of him."
Wouldn't we all like to have such a great relationship with God that he wouldn't hide anything from us? This is what God desires for all of His children. He wants to walk and talk with us everyday just like He wanted to do with Adam in the garden. I don't believe His original agenda has changed since then.
God also expresses his faith in Abraham and commits the future of the Jewish nation to him.
Through the ups and downs of life, Abraham and Sarah continued to trust and believe God's Word, even through great impossibility.
Think about it: Abraham was 100 and Sarah was 90 when they miraculously conceived the promised son Isaac. And when God told Abraham to offer Isaac as a sacrifice to God, Abraham obeyed fully!
Because of Abraham's willingness to sacrifice his own son, it opened up the door for God to sacrifice HIS own son, the Lord Jesus Christ.
Aren't we called Abraham's seed?
Gal. 3:29 And if you are Christ's, then you are Abraham's seed, and heirs according to the promise.
God loves all of us, but He entrusts things to good stewards and those who simply believe and walk with Him, through all the highs and lows of life. The first stewardship program of all time was the faithfulness Abraham and Sarah acted out in their family.
Abraham and Sarah paved the way for their children, the Jewish nation and the church to have the opportunity to be clothed in scarlet.
Thank God for the precious blood of Jesus.
I don't know about you, but I'm going to have to stop and worship God!!!!
The "Accomplished Woman" smiles at the future!
Proverbs 31:21 She is not afraid of the snow for her household: for all her household are clothed with scarlet.
We've been talking about clothing our household in scarlet and preparing them for harvest. We discussed the fact that the scarlet clothing represents the blood of Jesus and the robe of righteousness.
Today I want to encourage parents to clothe your children in prayer.
I recently read a book on prayer called "The Circle Maker" by Mark Batterson.
In the book, he teaches how we can pray circles around our children. His opening remarks simply captured my heart. He said "I want to be famous in my home."
I've heard so many stories about famous people that everyone admired and adored only to find out as I dug into their story that as a parents they were greatly lacking or just plain horrible.
But in the Amplified version of Genesis 12:2, the word "famous" is found connected to Abraham and Sarah's family.
Genesis 12:2 And I will make of you a great nation, (family) and I will bless you [with abundant increase of favors] and make your name famous and distinguished, and you will be a blessing [dispensing good to others].
God said he wanted to make Abraham and Sarah's family famous. What does that really mean? God knew their commitment to family. On that merit, He wanted to bless and favor them.
Secondly, God knew Abraham and Sarah's family and descendants would be a blessing to mankind. God said they would be dispensers of good.
When raising our own children, our earnest prayer was that they be saved and filled with the Holy Spirit at an early age. We also prayed they would be a blessing to humanity. I didn't want my children to be a drain on society. I knew that they both had gifts and talents that were given to them to be a blessing to other people.
As parents, we knew that our job was to pray and seek God because they belonged to God first. We, their parents, had been entrusted as His stewards over them.
Your children need your prayers and faith just as much as they need the food and shelter you give them. It's your responsibility to make sure that God hears about your children everyday. Talk to Him about them. Use your faith to pray and believe that they will be become all that God has created for them to become.
In my experience, prayer has been very prophetic. God has used our prayers over our children like a roadmap for their life.
In future posts, I will share some personal prayers that I wrote for my own family.
Now they are grown and raising their own families. It is amazing how I can look back and see the very scripture verses I was inspired to write and put together were prophetic! Inspired by the Holy Spirit, they were about specific things that they are now living out.
The "Accomplished Woman" smiles at the future because she clothes her household in prayer.
Proverbs 31:21 She is not afraid of the snow for her household: for all her household are clothed with scarlet.
I committed my life to Christ before my husband. After I was saved, I began praying for him. Much of my prayers were prayed "in the Spirit." I based these prayers on Romans 8:26-27. (NKJV)
26 Likewise the Spirit also helps in our weaknesses. For we do not know what we should pray for as we ought, but the Spirit Himself makes intercession for us with groanings which cannot be uttered (in articulate speech).
27 Now He who searches the hearts knows what the mind of the Spirit is, because He makes intercession for the saints according to the will of God.
When you pray in the Spirit, or pray in what Acts 2 refers to as "other tongues", you are praying the perfect will of God.
When you don't know exactly what to pray for, God does!  He knows what is needed for that person or situation much better than you do.
One translation refers to the phrase "according to the will of God" as this: you are praying the very prayers of God!
We not only pray in the Spirit, but we also need to pray scripture. Praying the Word of God is very powerful because the Word in and of itself is ALIVE!
I am listing here many of the scriptures I prayed for my husband. These later morphed into prayers for my son, Josh. I also had a personal prayer for my daughter Brooke, which I will post later. I know it's quite lengthy, but it's a blueprint for life. I'm not saying you have to pray all these at once either. But these scriptures give you a blueprint to use and pray over the men in your family.
Father, in Jesus name, I come before you and thank you for my son (or husband) and make confession concerning him. By confessing your Word, I release Jesus to work on his behalf.
I thank you Father that my son is a good child and his steps are ordered of you. Though he fall he shall not be utterly cast down, for you Lord will grasp him in support and uphold him. (Psalms 37:23,24)
You teach him to profit and lead him in the way that he should go. (Isaiah 48;17)
You are his confidence, firm and strong, and you keep his foot from being caught in a trap or sudden danger. (Proverbs 3:26)
He is wise and suspects danger and cautiously avoids evil. (Proverbs 14:16)
He chooses wise friends as his companions, which makes him wise. (Proverbs 13:20, 21)
My son prizes wisdom and exalts her, and she (wisdom) exalts and promotes him and brings him to honor because he embraces her. (Proverbs 4:8)
He will speak excellent and princely things and the opening of his lips shall be for right things. His mouth shall utter truth and wrongdoing is loathsome to his lips. All his words are right, and nothing contrary to truth is in them.( Proverbs 8:6,8)
Counsel in his heart is like deep water, but he is a child of understanding, and he will draw it out. (Proverbs 20:5)
My son blesses the Lord who gives him counsel; his reins or (heart) instruct him in the night seasons. (Psalms 16:7)
The lines (inheritance) are fallen in pleasant places unto him. Yes he has a goodly heritage. (Psalms16:6)
His gift makes room for him and brings him before great men.(Proverbs 18:16)
Every place the sole of his foot shall tread upon shall be given to him, and no man shall stand before him all the days of his life.(Joshua1:3-5)
The Lord our God will suffer no man to do him wrong; he shall reprove kings for his sake. (Psalm 105:14)
He has that which is desired in a man: loyalty and kindness and his glory and his delight are in his giving. (Proverbs19:22)
The Lord is with him, therefore he is prosperous child, and all those around him are blessed for his sake. (Genesis 39:2)
And God will make him a great nation, (family) and God will bless him [with abundant increase of favors] and make his name famous and distinguished, and he will be a blessing [dispensing good to others].(Genesis 12:2)
The "Accomplished Woman" smiles at the future because she believes what God says!