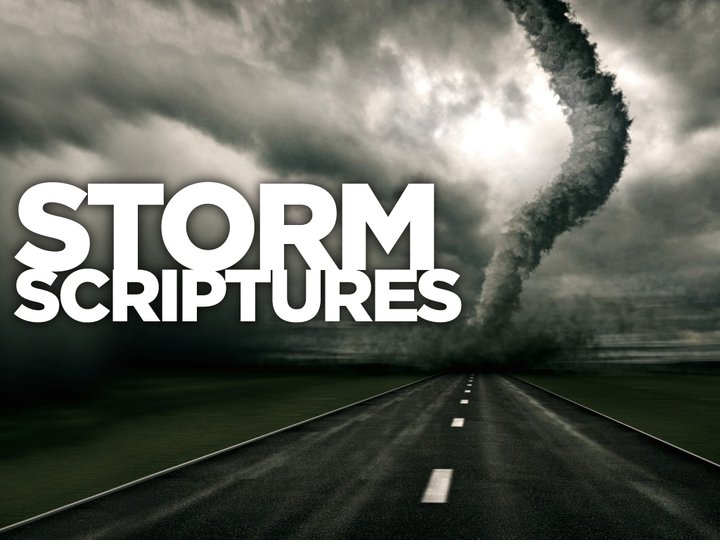 Every year around this time, we see severe weather across the United States that ranges from tornadoes, to floods and hail.
As Christians we don't have to just huddle up in the closet with our families and hope for the best. No, we have been given the authority to pray and speak to the weather systems just as Jesus did. We can speak to the earth, we can speak the atmosphere, the winds, the weather patterns and even to address the storm systems and command them to stay away from us, our families and our homes.
Let me give you some examples from the Bible. One from the Old Testament and one from the New Testament.
Mark 4:37-39  And there arose a great storm of wind, and the waves beat into the ship, so that it was now full. And he [Jesus] was in the hinder part of the ship, asleep on a pillow: and they awake him, and say unto him, Master, carest thou not that we perish? And he arose, and rebuked the wind, and said unto the sea, Peace, be still. And the wind ceased, and there was a great calm.
Just as we do not have to accept the doctor's report, we don't have to accept the reports of science. We don't just have to accept the reports of catastrophic weather events as inevitable. We can rise up and pray!
Jesus had the authority to speak to the winds and the water and to calm the storms. The same authority has be given to us!
In the Old Testament book of I Kings 18:41-46 it says: And Elijah said unto Ahab, Get thee up, eat and drink; for there is a sound of abundance of rain. … and Elijah went up to the top of Carmel; and he cast himself down upon the earth, and put his face between his knees, And said to his servant, Go up now, look toward the sea. And he went up, and looked, and said, There is nothing. And he [Elijah] said, Go again seven times. And it came to pass that the seventh time, that he said, Behold, there ariseth a little cloud out of the sea, like a man's hand. And he said, Go up, say unto Ahab, Prepare thy chariot, and get thee down, that the rain stop thee not. And it came to pass in the mean while, that the heaven was black with clouds and wind, and there was a great rain. … And the hand of the Lord was with Elijah…
We can see in the this passage of scripture that when Elijah spoke, it rained. For just as Elijah believed, he prayed, and it did rain.
In the New Testament James reminds us: "Elijah was a man with a nature like ours, and he prayed earnestly that it would not rain; and it did not rain on the land for three years and six months. And he prayed again, and the heaven gave rain, and the earth produced its fruit" James 5:17–18
As believers, we can speak to the storms. We can speak to the weather systems and patterns, we can stand in the gap as believers that the weather systems will return to balance
The best thing to do is get out your arsenal of scriptures and speak to those storms. So if you don't have your own scriptures, here are the ones we put together for this time of the year.
Storm Scriptures
Psa. 91:1 Whoever lives under the shelter of the Most High will remain in the shadow of the Almighty.
Psa. 91:2  I will say to the Lord, "You are my refuge and my fortress, my God in whom I trust."
Psa. 91:8  You only have to look with your eyes to see the punishment of wicked people.
Psa. 91:9  You, O Lord, are my refuge! You have made the Most High your home.
Psa. 91:11  He will put his angels in charge of you to protect you in all your ways.
Psa. 91:12 They will carry you in their hands so that you never hit your foot against a rock.
Psa. 91:14  Because you love me, I will rescue you. I will protect you because you know my name.
Psa. 91:15 When you call to me, I will answer you. I will be with you when you are in trouble. I will save you and honor you.
Psa. 91:16  I will satisfy you with a long life. I will show you how I will save you.
Psa. 61:4 I will abide in thy tabernacle for ever: I will trust in the cover of thy wings.
Is. 4:6 And there shall be a tabernacle for a shadow in the daytime from the heat, and for a place of refuge, and for a cover from storm and from rain.
Is. 32:2 And a man shall be as an hiding place from the wind, and a cover from the tempest; as rivers of water in a dry place, as the shadow of a great rock in a weary land.
Is. 59:19 And they shall fear the name of Jehovah from the west, and from the rising of the sun, his glory. When the adversary shall come in like a flood, the Spirit of Jehovah will lift up a banner against him.
Mark 4:39 And he arose, and rebuked the wind, and said unto the sea, Peace, be still. And the wind ceased, and there was a great calm.
Mark 11:23 I can guarantee this truth: This is what will be done for someone who doesn't doubt but believes what he says will happen, He can say to this mountain, 'Be uprooted and thrown into the sea,' and it will be done for him.
Mark 11:24 That's why I tell you to have faith that you have already received whatever you pray for, and it will be yours.