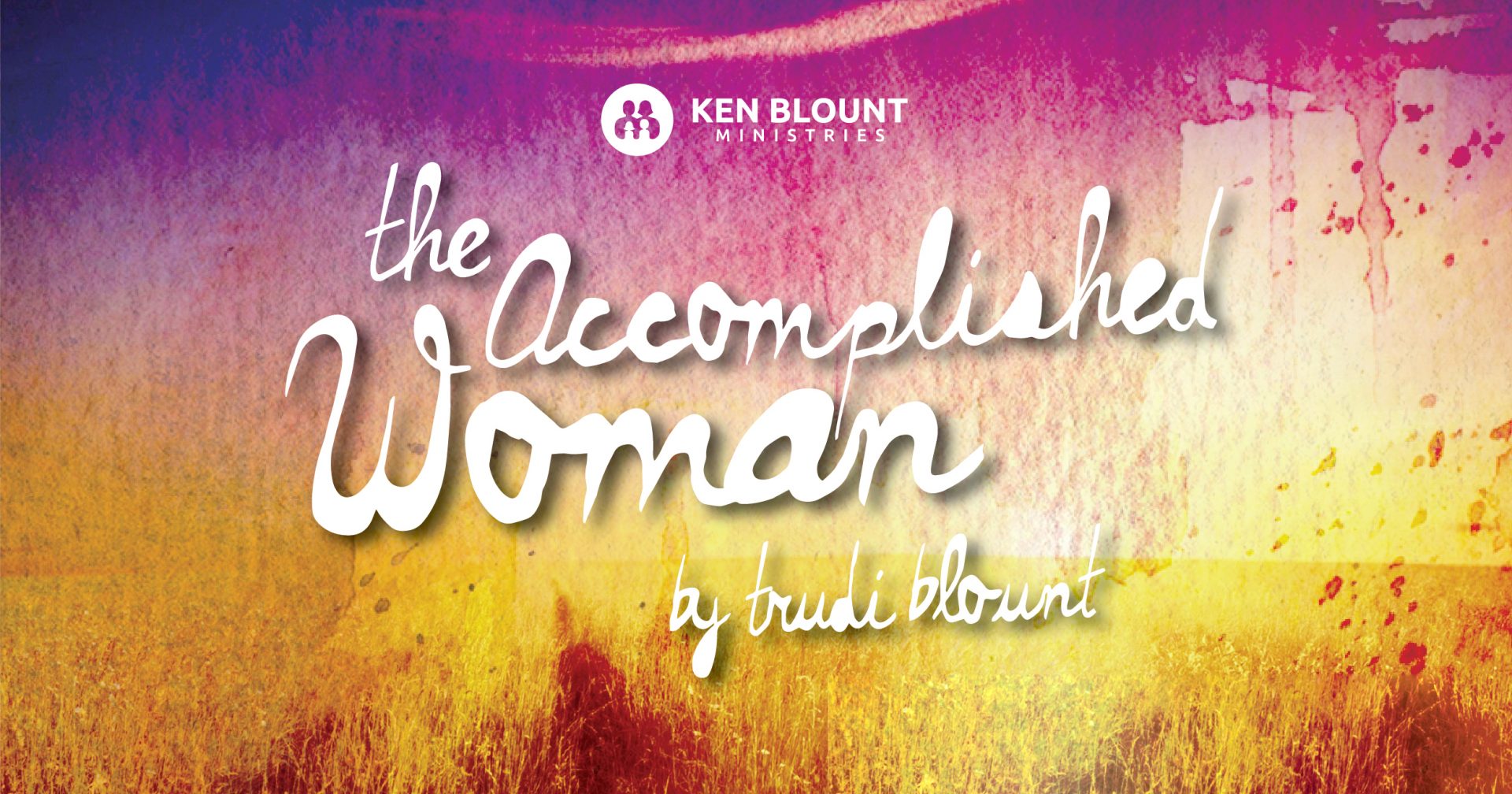 Accomplished Woman
Women of the Bible series
by Trudi Blount
Ruth || Her Example
Ruth 1:14 … Ruth clung to her…
Ruth is an extraordinary example of a godly woman. She faced a great crossroads. The character that she portrayed with her decision concerning Naomi is remarkable. You can't help but be moved by her ability to just trust God. There is a great redemptive quality in her deliberate refusal to live negatively.
The book of Ruth gives the impression that she brings out the best in other people. It also seems her heart and trust sets the stage for the point of this book, redemption.
Her devotion to not only Naomi but to God is a glowing portrait of the heart of this beautiful woman.
After Naomi discourages her daughters-in-law Ruth and Orpah to stay behind the story takes a startling turn.
Ruth 1:14 tells us concerning Naomi that "Orpah kissed her", while Ruth "clung to her."
On the surface their gestures seem heartwarming on all their accounts. But Orpah's "kiss" to Naomi and Ruth's "clinging" to Naomi represent two opposite things.
According to Jewish historians, Ruth and Orpah were in fact sisters. They were descendants of Eglon and Balak, kings of Moab.
As soon as Orpah made her decision to go back to Moab, history tells us she fell away from God, and fell far. Naomi understood that without her guidance Orpah would slip. When Naomi originally coaxed her daughters-in-law to go back to Moab, she kissed them. She was also testing their loyalty; not only to her, but to God.
Ruth 1:9 May the LORD grant that you may find rest, each in the house of her husband. Then she KISSED them, and they lifted up their voices and wept.
This KISS was not a mere expression of emotion but the equivalent of a ritual. It represented a spiritual breath (like the Holy Spirit) that would keep them from going back into their pagan lifestyle. Naomi's kiss to Ruth and Orpah was a blessing that would go with them as they returned to Moab.
Ruth and Orpah had both been converted to Jehovah God, but without a strong mentor (a helper) they could go back to an old lifestyle.
Jesus said in Matthew 28:19 "Go therefore and make disciples of all the nations, baptizing them in the name of the Father and of the Son and of the Holy Spirit".
God doesn't just want converts, he wants disciples! Do you see the type and shadow of the Holy Spirit?
Naomi was there to be a helper, much like the Holy Spirit helps us.
But then…Orpah kissed her back!
Ruth 1:14 "And they lifted up their voice, and wept again: and Orpah "kissed" her mother in law; but Ruth "clung to her."
When Orpah did leave she gave the kiss back to Naomi. This was an indication she no longer wanted Naomi or her God. She is turning her back on God and going back to her old way of life. This is where the term to "kiss-off" probably originated.
Even though Orpah was a great woman who had lived a Jewish life as the wife of one of Naomi's sons for the past ten years, her decision to leave Naomi put into motion her spiritual decline.
Actually Jewish history says she went from there to the land of the Philistines where she bore six sons.
Four generations later, Orpah's great-great-grandson faced off with Ruth's great-great-grandson. Orpah's great great grandson was Goliath. Ruth's great-great-grandson was David!
Orpah's decision made her an enemy to God!
The power of Naomi's kiss did not help Orpah. Instead the kiss was returned and sent her on a course that opposed God and His will.
Orpah did not simply fade into obscurity. She produced the worst enemies of Israel!
We all face crossroads in our lives and our choices will have consequences. The Holy Spirit is like Naomi's kiss. He is always there to assist us and to help us overcome, but the decision to listen and follow is up to us.
Ruth was the one who made the right choices.
Two sisters, with the same opportunities, same environment and the same circumstances made two very different decisions.
Our decisions determine our destiny!
Joel 3:14 Multitudes, multitudes in the valley of decision: for the day of the LORD is near in the valley of decision